The BLUnet is compiling most- if not all of the response and actions of Black Activists to the OccupyWallStreet Movement. Below is our position and action-plan on OccupyWallStreet as well as videos that will be uploaded showing the world that this anti=capitalist movement is not just a bunch of young whitefolks out to protest because the rest of the world is doing it.
So please send your written reports and videos on your local Black involvements in the OccupyWallStreet Movement.
============================
The Black Left Unity Network, the OWS and Rebuilding the Black Freedom Movement


The Black Left Unity Network (BLUN) re-asserts its view that the Occupy Wall Street movement is an important development in helping to shape the anti-capitalist sentiment in this period of capitalist crisis. It points out how widespread the crisis is, while not always showing its depth.

However, since the emergence of the OWS many have argued about its general lack of inclusion, about its importance but limitations in reaching the Black masses, and about the non-working-class and anarchist character of its general assemblies, among other concerns.

Out of the concerns raised by Black and people of color labor and social movement activists about the OWS, including from the Black Left Unity Network (BLUN) National Dialogue calls that involved more than 100 Black activists from 14 states and 17 cities, new forms and tactics of the Occupy movement to reach the Black masses have developed, such as Occupy the Hood.

This has led to the transforming of the OWS from being mainly an encampment and social network movement into one that includes more organized forces and that targets strategic points of US and global capital. We note, for example, the closing down of the shipping ports on the West Coast, entry points of mass transportation in New York City and corporate stores like Wal-Mart and Target.

The BLUN believes that the US government's fear of the changing racial and class character of the OWS, the independent Black and people of color initiatives expressing solidarity with the OWS, and its new strategic targets, are major reasons for the nationally coordinated attacks against the OWS encampments by the police.

By attacking the encampments, the state hopes to defeat the Occupy movement, the anti-capitalist sentiment and any new initiatives, especially among Black and oppressed people of color carrying forward anti-capitalist demands. Black activists must have a sober and collective assessment of the tactics and aims of the repression and the role of the federal government. This and other strategic assessments are not usually a major focus of spontaneous movements.

The depth of the US and global capitalist crisis will continue to produce popular forms of spontaneous resistance like OWS. For the Black masses it is critically important to have an organized national movement to help direct the strategy, tactics and alliances of Black national resistance as a powerful and revolutionary social force. Without this the spontaneity of the Black masses will again be shaped and influenced by the Obama election campaign.

The Obama administration has been used successfully to hold back the militancy of the Black masses as a revolutionary social force. Yet, even the NAACP, a pro-Obama organization petitioning of the United Nations charging the US with political disenfranchisement of Black and Latino voters, points out how the contradictions of bourgeois democracy are sharpening among Black people from this capitalist crisis.

Conscious efforts must take place to organize Black activists rooted in the local struggles and social movements throughout the US into a new Black left to provide leadership to the Black masses in this period of capitalist crisis. The BLUN calls on Black activists who see the need to build and work in mechanisms, campaigns and alliances that become a framework for rebuilding the Black liberation movement to join the Black Left Unity Network.

The BLUN Continuations Committee
=====================
A Call for a National Dialog on Black Left Participation

in the OWS Movement
By
The Black Left Unity Network and
USHRN Labor Working Group

 Over the last two years, the Black left unity network (BLUN) has engaged in a process that focused on reaching out to Black worker activists in the labor movement, and other core social movements that organize and mobilize the Black working class.  We have looked for opportunities such as building support for the Hurricane Katrina survivors and organizing and promoting a Reconstruction movement as a strategic flank of the U.S. anti-imperialist and anti-capitalist struggle, using Survivor Assemblies as popular democratic forums; promoting a Thank You Cuba campaign to  challenge attempts to isolate Cuba and socialism as a racist regime; and participating in the Human Rights movement to help ground it in mass bases of resistance to help shape and influence its demands and anti-imperialist political character.
While there is much more needed in developing the BLUN as a unity process; a major aspect of the process must be that of forging Black left unity within the context of trying to unify and give a working class and internationalist perspective based in concrete demands to the struggles and upsurges that originate from or may have an impact on the Black masses.
Therefore, with the emergence of the OWS as an national phenomenon with developing organizational expressions in various cities across the country, members of BLUN have taken the position that it is important to develop a process for addressing the questions that have quickly surfaced related to the political character of this movement and the role and participation of Black, Latino and Native forces.
BLUN along with the Labor working group of US Human Rights Network has raised some questions to be discussed including...:  
1.      While our  communities are weakly organized, disconnected from the occupation motion, how might the occupy wall street be used to organize our communities  for fundamental social change in the interests of  the Black masses?  Or can it? 
2.      How can the Black left help to build alliances between the Black and Latino working classes in particular and with workers of color in general to begin forging Black and Brown working class unity as key to driving a popular agenda and mandate for radical social transformation in this period?
3.      How can Black left forces direct this anti-capitalist sentiment and energy of the OWS to increase the existing fight backs in the labor movement and the Black communities?
4.       Since labor is an important social force in the capitalist system, how can Black workers influence and help to mobilize the character and content of labors involvement in the OWS?
5.      How can the Black left become a force in helping to promote U.S. accountability to the UN HumanRights?
For More Information Contact:
Saladin Muhammad <SALADIN62@aol.com>
 ===============================
OCCUPY REPORTS FROM ACROSS BLACK AMERICA
PITTSBURGH
-------------------------
-----------------------
 Occupy Pittsburgh 
People of Color Working Group
Solidarity Statement

The members of the People of Color Working Group of Occupy Pittsburgh
stand in solidarity with Occupy Wall Street and the Occupy Movement
Globally.

* This a living document that we hold the responsibility and freedom
to amend as we see necessary.

We recognize this movement to be of significant and critical
importance to the lives of all people living in the United States and
around the world. We are deeply encouraged by the masses of people
coming together to challenge corporate greed, corruption and the
continued exploitation of poor and working class people by
globalization and capitalism.

We find it deplorable that, though there are enough resources to
sustain everyone, 1% of the population hoards resources that keep 99%
of us unable to maintain a healthy existence. There are enough
resources in this world for everyone to be well taken care of, to be
respected and to be nurtured.

We the POC Working Group of Occupy Pittsburgh understand that a
radical social change needs to occur in order for our realities to be
transformed. We call for the dismantling of white supremacy and
economic justice for all people.

The POC Working Group of Occupy Pittsburgh has also joined in
solidarity with the Occupy the Hood Movement to ensure that people of
color are represented, heard and participate in this historical
moment.

People of Color Everywhere - We are asking you to join us if you are
tired, outraged, pissed off and willing to move!

If you are concerned with or affected by any of the following issues
please join us.

* This is not an all- inclusive list.
●        White Supremacy/ Racism
●        Criminalization of people of color and Mass Incarceration
●        Unemployment
●        Police Brutality
●        Lack of  Healthcare
●        Poverty
●        Gentrification / Affordable Housing
●        Debt Relief
●        Violence in our communities
●        Environmental Justice
●        Degradation of our water sources
●        Mental Health and Wellness
●        Drug trafficking
●        Education
●        Reproductive Justice
●        Gender Justice
●        Food Access
●        Economic Injustice
●        Political Prisoners
==================================
Thoughts on Occupy Oakland's Historic General Strike: Celebration & Sobering Lessons
Friday Nov 4th, 2011

by Davey D- hiphopandpolitics.com

There's so much to say about Wednesday's historic General Strike (Nov 2, 2011) in Oakland. It was the nation's first general strike in over 65 years. It was a day where everyone was upbeat and focused. It was a day of success. It was a day in which we saw Oakland step out to the tune of tens of thousands of people to make a bold statement and raise awareness about economic disparity. It was a solid shot in the arm that the Occupy Movement needed. It was a good look, something that Oakland needed.
The goals of the day were to shut down the businesses in downtown, in particular the banks and, later that afternoon, march to the Port of Oakland, the 5th largest in the country, and shut it down as well.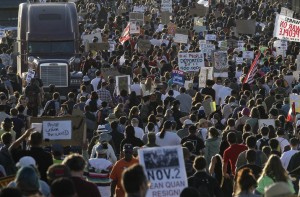 Many thought this was a far-fetched dream and an impossible task. After all, there have been several attempts to do this in the recent past without a whole lot of success, but when a crowd numbering by some estimates between 15-20 thousand showed up ready to put in work, that dream became a reality. The shut down of the port lasted until the next morning where you still had hundreds of 99%ers down there blocking the gates and not letting trucks pass through. Eventually folks left at around 9 am that morning.
That night, while leaving the port, I saw numerous veterans of past movements including former Black Panther Chair Elaine Brown who was beaming with pride. Brown expressed how proud she was to see today's younger generation rise to the occassion, take the baton and move the proverbial envelope in a significant way. A general strike being organized and pulled off within a week's time and the port being shut down was something she'd thought would never happen, at least in her lifetime.  For her seeing such a huge crowd come out to support was moving.
http://www.youtube.com/watch?v=baqpserpX80&feature=email
A Great Day in Oakland
The General Strike started out with the first of several scheduled gatherings at 9am on the corner of 14th and Broadway. When I arrived, there was already a crowd numbering in the hundreds, perhaps even a thousand or so, with speakers already on the mic explaining the goals of the day, what the General Strike was about. Traffic for several blocks up and down Broadway had been stopped and the streets closed down. Liberating that corner was the first of the day's many victories.
The stage and loud-speaker system on 14th & Broadway was one of several locations spawning activity. Inside Oscar Grant Plaza (city hall plaza) where the General Assemblies are held there were large crowds who were engaged by dozens of other speakers and performers. There was also a number of art displays. The vibe in the air was infectious, as many could sense this was the beginning of what many felt would be an historic day. The next gatherings scheduled to take place were 12 noon and 2pm, with the last one scheduled at 5pm, when folks would march to shut down the Port of Oakland.
Throughout the day all sorts of speakers blessed the mic, speaking to pressing issues, especially how the economy was impacting them and their communities. There were heartfelt perspectives shared by various members of Black, Brown, Asian and Native communities along with students, labor and working class folks.
The list of those addressing the crowd is too long to accurately recount, but everyone from Angela Davis to former Black Panther Melvin Dixon, to labor leaders, like Clarence Thomas, Topaz DuBois and Jack Heyman, to artists like Boots Riley and Mistah Fab, were up in the mix speaking truth to power.
In addition to the economy, other topics addressed included how banks facilitated the massive numbers of foreclosures in Black, Brown and now working class communities. We learned how banks like Wells Fargo invest in immigrant detention centers and private prisons. We also heard folks speak about the current California prison hunger strike and how mass incarceration is economically benefiting stakeholders within the prison industrial complex.
We heard Iraq War vets speak to the exorbitant amounts of money used by the military to further meaningless wars and how those funds should be reinvested in our communities to improve schools. The city of Oakland closed 5 schools last week with more to come. That was a main point echoed throughout the day. Police violence that brought about the last General Strike 1934 (Bloody Thursday) . Police protected the 1% back in those days as well.
We heard folks speak passionately about the plight of farmers and how big agribusiness has been impacting the 99%. There was a lot of talk about the environment, food justice and how Monsanto has been a tyrannical business crippling small farmers and entire countries by obtaining patents for seeds and forcing everyone to buy from them.
There was lots of conversation about electoral politics, with many of the speakers making it very clear time and time again that the Occupy Movement is not a springboard for either the Republican or Democratic Party. Many of the speakers, as well as many we've interviewed in the crowd, had concluded that much of the leadership in both parties have been brought off and are in the pockets of Wall Street lobbyists. Elected officials were not allowed to speak via the stage yesterday and that was fine by many in attendance. No one wanted to hear a stomp speech or apologies for the way their respective parties have been complicit in propping up big banks and carrying out their agendas.
In response to Wall Street corrupting politicians, over the past couple of weeks we've met and heard from a number of young people here in Oakland who are quietly networking, planting seeds and gearing up to run for a number of local offices come 2012 and 2013. That has been a bright spot.
Throughout the day we heard local singers and rappers take the stage and speak or do remakes of popular songs where the theme was economic disparity. For, example we heard one sister redo Gloria Gaynor's classic 'I Will Survive' where she sung about the banks.. It was a beautiful thing.
Artists like Richie Rich, D-Sharp, Dwayne Wiggins, Flo, Jennifer Johns, Sellasie, Walt 427, Picaso of Living legends, Ashe, Brwn Bflo, Mistah Fab and of course Boots Riley and Cat who held down one of the stages were among the scores of artists on hand supporting the General Strike. Music played throughout the afternoon and could be heard throughout the plaza, up and down Broadway. Songs by Dead Prez and James Brown helped them became familiar voices during yesterday's rally.
With each scheduled gathering folks would march off by the hundreds to different parts of the downtown. One group went before the Office of University California to protest fee hikes which have doubled in the past two years. Some went to the library to protest budget cuts resulting in it being shut down.
Others went to stand before the banks and demand they shut down. There was a large group that went and sat in front of Citibank. Still others went to Chase Bank while others went to Bank of America. In all those instances we heard or saw that the banks closed their doors. This was a beautiful thing.
Throughout the plaza were numerous tables with folks passing out information from a variety of organizations. If you needed help with foreclosures, legal aid, There were places set up where posters of the Occupy were being made… There was also lots of food.. Big shout out to the unions and Everett and Jones BBQ  for feeding over 5 thousand people that day…The mood throughout the day was upbeat as many were happy to see so many had come together and a General strike which once seemed like an impossibility was actually taking place. Police presence in and around downtown was minimal.
What I witnessed yesterday was the ultimate town square where everyone came together and through this exercise of having an open mic on 14th and Broadway all of us were able to bear witness to each others concerns and stories..This is important to note for a couple of reasons. First, for years we've had folks from various communities addressing economic disparity only to be ignored or have their voices minimize and marginalized. I spoke at length about this in yesterday's blog.. You can access it HERE
Second, this was important because it clearly showed how lazy many in the corporate media had been in terms of explaining what the Occupy Movement has been about.. Claims of it being unfocused and having no agenda was the convenient 30 second sound bite hawked vs simply explaining that financial institutions have hit large segments of the population in different ways resulting in folks coming together, comparing notes, raising awareness and trying to and figuring out the best ways to smash back on a common enemy (Wall Street Banks). This is what Nov 2 2011 spelled out and reaffirmed for many.
The Importance of the Labor and Shutting Down the Port
Throughout the day we heard from all sorts of union folks. We got important history lessons on the labor movement from long time activists and union members like Jack Heyman of the longshoremen and Clarence Thomas of ILWU Local 10. We also got to understand why so many unions are currently under attack by 1% interests and how that would ultimately impact the folks in the crowd.
Many union members spoke to the history of the General Strikes. They talked about some of the parallels back in 1934 and today in terms of 1% interests trying to crap on the average worker.
We were given a firm understanding about the Port of Oakland and what it meant when you shut it down. We learned that for each day it's shut down it delays goods being delivered up to a week. Three days of shut down equals 3 weeks of delay. With each day the port is shut down they lose up to $8 million dollars. With that information at hand folks got the picture. Shutting down the Port of Oakland would be directly messing with the money of some very powerful people, thus lines in the sand were being clearly drawn.
This picture was further cemented when it was explained who actually gets that $8 million and where that money is used. It was clear that the folks in economically depressed West Oakland where the port sits, or the 99% gathered yesterday at 14th and Broadway, were not main beneficiaries. Oakland rap artist Boots Riley and labor leader Clarence Thomas gave an important overview of what the day was supposed to be like on Democracy Now.
For many, the Port of Oakland was a major battle ground with long-lasting scars. Very few forgot what took place 8 years ago, April 7th 2003, when police shot rubber bullets at anti-war protestors who attempted to shut down the port. Several protesters were seriously injured. Hence, going back to the port, with all the key issues the Occupy Movement had brought up, was paramount. You can peep the video of that HERE:
By 4 pm that afternoon all sides of the plaza were packed with thousands in the streets around 14th and Broadway as folks geared up for the march to shut down the Port of Oakland. The first wave of people left and headed down to the Port of Oakland. That's the image that many of local news stations showed. They said this was about 7 thousand, but most protesters feel this was a deliberate and gross under counting.
By 5pm another huge crowd had gathered, even larger then the first, being that it had been announced for the past week that the Port March would start at that time. By the time you got down to the Port, there were folks for as far as the eye could see. From my own estimation the crowd was easily over 15k and maybe more. It was by far one of the largest gatherings I had seen in Oakland and one of the largest we've seen in the Bay Area in a long time.
It was a sea of people that took up both sides of the bridge/overpass leading to the port that would not stop. For many seeing this huge turnout was the crowning jewel to what had been a great day and an eventful week that saw the Occupy Movement rebound from a night of chaos and police repression just a week earlier. When word got out that the Port had been shut down, everyone was excited. Cars honked, trucks honked… Many truckers came and used their vehicles to help block port entrances so no one could enter
The Violence and the Lessons behind It

As mentioned earlier, throughout the day there were numerous marches with the intention of shutting down banks and other businesses that were part of the 1% and bringing awareness to troubled social programs and services hard hit by the economy.  It was during one of these marches (the March Against Capitalism) that we got word of the first acts of vandalism.
We heard and later saw video of a group of masked men dressed in black, spray painting the word "Strike" across the front of Whole Foods grocery store. Later on these same masked men broke the windows to Wells Fargo and Chase and tagged the walls. This enraged many on were on the scene, not because they felt sorry for the banks who would and did quickly repair the damage, but because they felt that what took place was a deliberate attempt to undermine what the General Strike was about. They also felt acts of vandalism were also gonna further soil the city's reputation and give light to the stereotype of us being a crime ridden city.
In addition, for the past week the police had kept their distance, thus  many felt comfortable in attending activities around the General Strike. You had families with kids. You had many who were undocumented who were out and about, who suddenly had their safety and well-being put into jeopardy by a handful of folks who apparently had no regard for what the Occupy Oakland General Assembly had called for, which was demonstrations free of vandalism.
Many stepped to the vandals, urging them to stop. A couple even had physical confrontations. Here's a video of the confrontation at Whole Foods:
http://www.youtube.com/watch?feature=player_embedded&v=86XhCwHhwn8
Some have attempted to explain this away by saying  Whole Foods was vandalized because the management had threatened to fire workers if they took off to attend the General Strike. Others were saying that the violence and vandalism is small potatoes compared to the economic violence done by the big banks, big corporations and their cronies.
As one gentleman remarked upon hearing the news: "Yes, windows got broke, but Wells Fargo and Bank of America broke hearts, broke the economy and on top of that stole people's homes… A window breaker will go to jail while a CEO who swindles us out of our homes and billions of dollars is free and might even be sitting at the highest levels of government".
In short F$%K a Bank..
There's not too many who would argue with that sentiment and many didn't as the day continued on and we saw a successful shut down of the port. But at the same time many weren't buying the line that violence was necessary.
After the march to the port, many went home and retired for the night only to wake up the next morning to discover that Occupy Oakland made national news. Sadly, it was not for the success of the General Strike or the shut down of the port, but for vandalism and violence.
Many waking up to the news of overnight violence were stunned, angry, and dismayed. Damn near every corporate news outlet was on the scene, including the NY based Today Show, who had pretty much ignored Occupy Oakland in the past, but this morning they had a reporter on the scene doing live coverage. Blaring across everyone's screens wasn't 20k people closing down the 5th largest port in the country, it was masked men wearing all Black setting fires in the middle of the street and destroying local businesses.
Many of shops hit were ones friendly and supportive of Occupy Oakland, including Tully's Coffee on 14th and Broadway who had her windows smashed.  Spray paint marred damn near every building around the plaza and up
and down Broadway. Oakland police who had had kept their distance from Occupy Oakland for the past few days showed up in full riot gear, shooting tear gas and flash grenades. Much of the violence took place around 2 am, and by 4 am, when over 100 people were arrested, the overwhelming majority of those sent to jail (75% ) were from out-of-town.
In the aftermath of the violence, many  were left with a very clear lesson as to what Occupy Oakland and the Occupy Movement in general is up against. Folks know beyond a shadow of a doubt that any and all attempts will be made to marginalize, discredit and ultimately erase any success stories this movement has.
When this movement does well or accomplishes a goal, one should expect there will be some sort of incident to sabotage things. On the heels of that incident will be gaggle of corporate reporters on hand complete with satellite trucks ready to convey any and all dirty details they can dig up. The end game is to spark fear and plant seeds of doubt.
As I noted in the past, this is a war being fought on many fronts. Information, News Narratives and PR are 3 of them.Occupy Oakland's shutting down the Port and having a large turnout for a General Strike was major. It was a huge smack in the face to the 1% who have been doing everything they could to dismiss the Occupy Movement. Unfortunately for the 1%, what took place on November 2nd was something you could not ignore.
If that wasn't enough, on the same day we shut down the port of Oakland, Occupy Wall Street held a People's Tribunal in Zuccotti Park where they found Goldman Sachs guilty. Folks from OWS directly confronted executives from Goldman Sachs where they handed them the guilty verdict.
These activities were supposed to be the main conversation. Victories on both coasts for the Occupy Movement with everyone gearing up for Bank Transfer Day on Saturday Nov 5th. I guess from the stand point of the 1% Financial Bankers, the momentum had to be slowed down.
That slowdown was gonna come in the form of broken windows and all out vandalism. This was something Occupy Oakland had avoided for 3 weeks since they first set up shop. Even during the police melee from the other week with all the flash bombs and tear gas, no one ran around busting windows. To see this happening on the night of big success is more than obvious.
So as frustrating and dismaying as it was, we all know what this was about — an attempt to crush the spirit. We've all seen this film before…most recently in Cairo, Egypt during the Arab Spring.
If folks recall, days after the protest began, out of the blue 'some people' decided to go loot the national Egyptian Museum. Initially our corporate media tried to blame the protesters in Tahir Square. They were quick to sour on them and attach demeaning labels to them. The protesters in Egypt realized what was happening, quickly regrouped, stood side by side locking arms to guard the museum. Later it was discovered that it was agents working for Mubark's secret police thugs, who were attempting to sway world wide opinion by posing as looters.
Could that have been the case here in Oakland? After all, it's an an age-old tactic that even Stevie Wonder could see from a distance. It happens all over within various movements by those desperate to hold onto power. From the days of Cointel-Pro to now in the age of increased surveillance and the Patriot Act, how could one NOT draw such conclusions when the actions taken are destructive?
It's good that folks from Occupy Oakland responded immediately to the carnage by helping clean up the damage and guarding shops that had broken windows, to prevent looting. Such gestures have been uplifting and underscore the resilience that people in this city have…
Nov 2 2011 we saw tens of thousands of people from all walks of life shut down the Port of Oakland costing those in power,  millions of dollars and we have folks breaking the windows of local businesses in Oakland of all places..  Think on that for a minute..Why not bring that ruckus to the doorsteps of the bankers who've wrecked havoc on us? Aptos? Hillsdale? Menlo Park?
The day is coming where it's not gonna be so easy to find folks to be agents for the 1%. Until then lets recognize things for what they are.. Call a spade a spade or in this case, call a guy busting out windows of local businesses wearing all black- A provocateur- perhaps a hired goon to be an ally to the 1%. He's the Oakland style version of the white shirted police we see on Wall Street....
================================================= 
OCCUPY GREENVILLE, SOUTH CAROLINA ----
-----------------------------
------------------------------------
Sista Efia Nwangaza at the OccupyGreenville Demo October 2011
=======================================================
OCCUPYHARLEM LAUNCHED!
Nellie Bailey Speaking Outside Harlem's Hotel Theresa
REPORT FROM DONNA LAMB
As Occupy Wall Street continues to galvanize America and numerous Occupy movements keep springing up in cities, towns and communities across the nation, it was only a matter of time before Harlem residents and activists took the bull by the horns and brought the initiative uptown.

On the evening of October 28, about 150 people, many of them born and raised in Harlem, attended the first Occupy Harlem general assembly, held at St. Philip's Church in Central Harlem. Nellie Bailey, who is with Harlem Fightback Against War at Home and Abroad as well as a member of the United National Antiwar Coalition, was a co-convener.

There were many proposals dealing with economics and jobs, including a request to endorse "Jobs for ALL," a massive public works and public service program to create 25 million new jobs at union wages, to be paid for by new taxes on the wealth and income of the rich, on financial transactions, and on corporate profits.

Two political proposals sought endorsement of the Occupy Congress campaign to occupy the local offices of members of Congress unless they sign a pledge to vote down any proposed cuts to working people's programs and for a congressional hearing in Washington, DC to address the second-class status of independent voters, which make up 41 percent of the electorate.

There were also important proposals regarding issues affecting Continental Africans, such as the Nuba Mountain peoples in southern Sudan, and people of African descent throughout the Diaspora, including Haiti.
"Occupy Harlem can only survive as a people's movement with the direct involvement of the 99 percent to affect change," Nellie Bailey said. "We need a radical transformation of the current status quo - the banks financing and controlling the political process, buying out politicians in both parties to protect the economic interest of the one percent. Poor and working class people in Harlem and throughout the country are suffering," she continued. "We aren't going to take it anymore. Occupy Wall Street is our blueprint."

Joining Bailey was Black Agenda Radio commentator Glen Ford. "We can't just wait for the people downtown in Occupy Wall Street to stand up for us. We must organize for our own economic and political defense," he said.
 
Added Larry Adams of the People's Organization for Progress, "We must take action because the recession in America is a full-blown depression for Black America."

Focusing attention on one of Harlem's grave concerns was guest speaker Carl Dix, national spokesperson for the Revolutionary Communist Party. He stressed the urgent need to end the NYPD's "stop and frisk" policy that is harassing and humiliating countless innocent people.

Dix told of one Black young man who was stopped and frisked on his way to get some chicken. After the police officer found that the young man had no record, instead of just releasing him, the officer told him to do the chicken noodle soup dance and then he would let him go. "I don't want to live in a country where our Black young men are treated like that," declared Dix. "It is a burning injustice, and we want to tap into a supportive mood around resisting it and to link in with people who are trying to deal with it on other levels."

The microphone was opened to all, and attendees eagerly came forward to propose a wide range of issues from the local to the international that they thought should be supported or endorsed by Occupy Harlem.

For instance, at the local level there were proposals to support the continued opposition to the planned 50-year expansion of Columbia University that threatens to take over Harlem; to endorse the struggle against the privatization of Harlem's public housing; and to fight the closing of the Harlem post office, which will devastate many Harlemites who don't have bank accounts and must rely on postal money orders to pay their bills. There was also a proposal to support Harlem's community gardens that provide food, making the community less dependent on outside sources.

Along with the many issues proposed, there was robust discussion regarding procedures and a number of other items. Said Bailey: "As we feel our way in these uncharted waters, we recognize the need of the Harlem community to freely express itself. That is what we tried to do tonight instead of going by a format that others may use in their Occupy movements. As we move forward, we will work these issues out through a democratic and transparent process."

At its next general assembly Occupy Harlem will begin considering the proposals voiced at this first meeting and organizing working committees, a crucial step forward to sustain and coalesce the movement.

For further information call (646) 812-5188 or email occupyharlem@gmail.com 
=================================================
OCCUPY HARLEM MOBILIZATION
We stand in solidarity with Occupiers of Wall Street 
Friday, October 28, 2011
6:30 – 9:30 PM
St. Philip's Church
204 West 134th Street
(Adam Clayton Powell Blvd)
 A call to Blacks, Latinos, and immigrants to occupy their communities against predatory investors, displacement, privatization and state repression. Let us assert our Dignity! WE MUST DEFEND OUR COMMUNITIES! THIS IS OUR STRUGGLE, THIS IS OUR MOMENT IN HISTORY. THIS IS PEOPLE'S POWER!
 
We stand in solidarity with all of our brothers and sisters occupying cities, towns and neighborhoods in the United States. We stand in solidarity with poor and working class people across the globe rising up against criminal predatory finance capital that has no regard for humanity, that has no regard for Mother Earth.
 
Wall Street, the epicenter of international finance capital, began its financial prosperity with slave profiteering firms, JP Morgan, Lehman Brothers, Wachovia Bank and Bank of America.  In fact, Wall Street and most of the city's financial district were built on the burial ground of captured Africans forced into genocidal free labor for centuries, a crime against humanity. The legacy of that crime against humanity manifested today in Jim Crow mass incarceration, a crisis of massive Black unemployment and the greatest loss of wealth for people of color from subprime lending frauds estimated between $164 billion and $213 billion.
 
Finance capital plutocrats have always controlled the US political system. They threaten and received a $16 trillion bank bailout, the greatest thief of taxpayers' money in modern US history. And it's only the tip of the iceberg because the banks have an estimated $700 trillion of worthless derivatives, the BULL in the china shop that might very well bring down Wall Street.
 
Let us, the 99 percent, build a united people's movement of the poor, the working class and the middle class to reign in the one percent. ANOTHER WORLD IS POSSIBLE!
 
Join us for this Occupy Harlem mobilization with guest speakers and the occupy site to be announced.
 
NO MORE BANK BAILOUTS!  NO MORE WARS! WE WANT MONEY FOR JOBS, HOUSING, EDUCATION AND MEDICAL CARE.
 
Sponsors: Harlem Fightback Against War at Home & Abroad, People's Organization for Progress, Harlem Fightback (list in formation)
Endorsements:Movement for Justice in El Barrio, Mirabal Culture Center,  International Action Center, United National Anti-war Coalition, International Socialist Organization, All African People's Revolutionary Party (GC), Kwame Ture Institute, BAYAN USA, Pakistan USA, Pakistan Solidarity Network, Glen Ford (Black Agenda Report), Rev. Earl Kooperkamp (St. Mary's Church), (List in formation)
 
Telephone: 646-812-5188
Email:harlemfightbackagainstwar@gmail.com
Website: http://harlemfightback.wordpress.com--